What is spirituality? [Interview]
OM Namo Bhagavate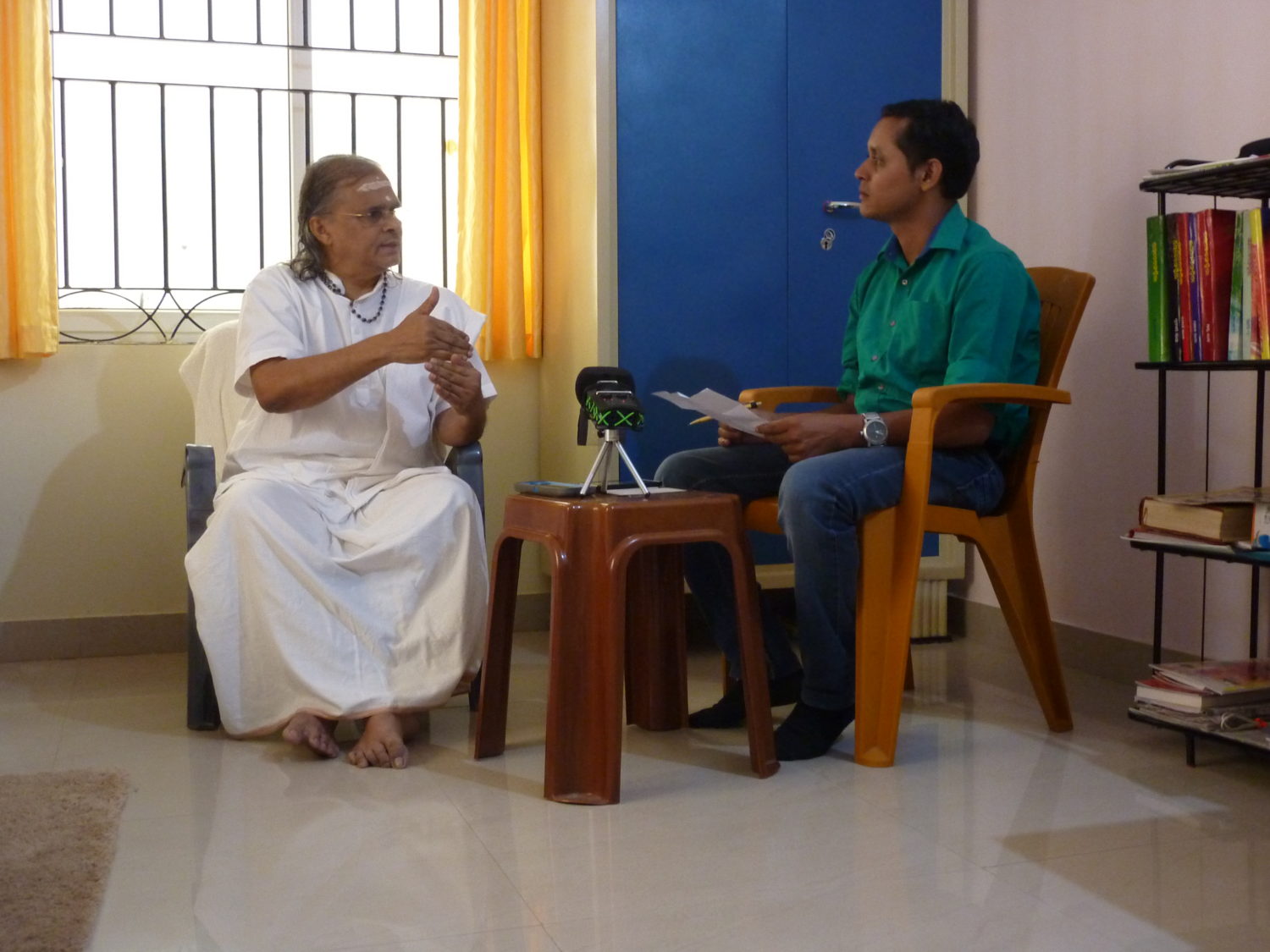 [Transcript and recording of a 12 June 2017 newspaper interview with Swamiji. Click below on the triangle "play" button to hear the audio.]
Question: What is spirituality, how a layman will understand what spirituality is?
Swamiji: Spirituality is a way of living the life to realize the spirit, to manifest the spirit and to transmit this force so that many people in society can be awakened to spirituality.
Spirituality is not a dogma. It has no do's and do not's. It does not follow any ritualistic pattern. Basically, spirituality deals with the meaning of spirit or soul and the method to experience this soul and the process through which this soul or the spirit in man gets transmitted to others. Other than this, in my view, spirituality has no other meaning.
Next question: Do you think the common people have lost their faith on the so-called godman and spirituality?
Swamiji: Good question, but I would like to first clarify about what is the meaning of the word faith. Faith is not what common people understand. Faith is something which comes only after realization. Prior to realization what we all know and feel about faith is called belief. Belief is mental, but faith is not mental, faith is total. The common man's belief on godman, about godman, about saints, this is prone to change and it is natural, it is normal, because belief is a state of mind and the mind has been fed many things regarding God, godman, saints, seers.
Wherefrom the mind got it? It is written in the scriptures. "This is what God is," the scripture says. "This is what a godman is supposed to do, this is how a godman is supposed to live his life." All these are codified in scriptures. When these are violated, the belief of the common men on godman is shaken. Unfortunately, that has happened to a very great extent in the present society.
Many spiritual beings, I will not call them godman, because God is never a man, so the very term godman is a misnomer. It is man who realizes God. There is no godman. To whomsoever you may call godman must be a human being who has realized some divinity, who is able to manifest that divinity through action. So I don't feel comfortable to call X, Y or Z as godman. They are spiritual beings, and as spiritual beings the society expects that they must have realized the spirit or the soul, and once you realize the soul, naturally your action, both inner and outer, is bound to reflect your realization. If that is not happening the conclusion is one has not realized the soul.
If the action of any spiritual being is not reflecting the light of the soul within, then it is definitely something for which the person should be first concerned. So when anyone violates that norm, naturally the belief is shaken, but not the faith.
Question: Most of the gurus now leading a very lavish lifestyle and it is contrary to spirituality.
Swamiji: Lavish lifestyle is a relative term. For someone which something may be lavish, but the other man it may be a necessity. Say for example, we are now sitting in this room. You are a journalist, you are asking me questions I am answering. Okay? Outside it is hot and humid. We are sitting in a room where there is air conditioner. Because there is an air conditioner we are able to sit, think, do our work perfectly. But if you go to a man in the street who is not having a roof over his head, he will say, "Oh, that Swamiji is having a lavish lifestyle." Okay?
What is lavish actually? Lavish in my definition is that life style which we in spiritual terms call indulgent lifestyle. Indulgence. Means perpetuating, enhancing and repeatedly running after the experiences of the sense and using the material power to achieve that goal. That is called lavish lifestyle. Means putting air conditioner inside the bathroom, having a ten-bedroom house, purchasing the costliest car even when your normal travel daily need is within twenty miles. That which is not necessary for the work that you are supposed to do, that which is not necessary at the level of your consciousness where you are, but you are misusing and abusing material resources just for the sake of comfort, luxury, indulgence. That is lavish lifestyle.
Whether any saint or swamiji is using these things for this indulgence purpose, I do not have any personal knowledge about that. That is why it will not be proper for me to say that X or Y or Z is leading a lavish lifestyle. Like suppose, a prime minister needs to go to address a meeting and he is short of time so he is taking helicopter. But the same person when he is out of power and he is needed to address the same group in the same place, he can travel by car, he can travel by bus, he can take a taxi. But because he has money, if he is using a helicopter, that you can say it is a lavish lifestyle.
So lavish is relative term. If a saint is in such of state of health that his body simply cannot survive if he is not having a room which is having controlled temperature, free from dust, free from bacteria … I have seen many, many revered saints of India. I am telling you one saint who was really impressed me. I met him in Rishikesh and he will be constantly in an air-conditioned environment, because he uses oxygen musk for his survival. And two people who had gone with me who do not know anything about that Swamiji, they said, "He is leading such a lavish lifestyle, Swamiji, how can he be an enlightened being?" I told, "This answer I cannot give because you have not come to the stage of knowing anything about him. You do not know his health condition, you do not know his personal nature."
So if we look at a distance what will happen? Two things. A mountain having no tree, full of only rocks and thorny bushes, if you look at a distance it looks beautiful. Opposite thing happens. If you look at a distance a spiritual being, an enlightened being, he may not appear to you to be beautiful, he may appear to you to be ugly, because the present society is now completely overwhelmed with negative thoughts, negative attitude, negative judgement, negative views, that is why many a time we are prone to think in that way.
But all said and done, I am also not denying what you are saying. There are some spiritual people, even some spiritual saints and swamijis those who are truly living a life of indulgence. I will not use your word, I will use my word, but both the words are same, meaning is same. Indulgent life they are leading.
Question: Okay. Swamiji, you are the pioneer of spiritual journalism, you are publishing a news magazine name Satyavarta which is the program. So in few words please tell us about the concept of spiritual journalism.
Swamiji: spiritual journalism aims at awakening the spirit in man through journalism. Spiritual journalism aims at creating opportunities for the awakened man to experience the spirit in him, and finally spiritual journalism means to disseminate and present knowledge in such a way that the spirit side of man, the divine side of man, the divine side of society will be manifested.
Question: In present circumstances you have sell news so do you think it is practically viable to sell spiritual journalism?
You have to sell your channel, you have to sell your newspaper.
Swamiji: That's a perfect question. If news can be presented in a truthful manner, without any bias, without any coating, without any contamination of personal feeling, it will hit like a missile in the heart of every human being and the readership will increase millionfold. Because news is not being presented uncontaminated, as it is, it is being mixed with impressions, opinions, views, preconceived bias, that is why news magnates are trying to sensationalize news to attract —. That's wrong.
Question: Very precisely please tell how do you differentiate between ethics and spirituality?
Swamiji: when you transcend ethics, not when you break ethics, when you transcend ethics, you reach the zone of spirit. So ethics is concern with regulating human behavior so that man will be in conformity with the ideal. Spirituality is transcending the barrier of ethics but not in any way violating ethical norms in personal conduct.
Question: Last but not the least. Now a sense of mistrust as I told before is viewing among the mass about spirituality and spiritual gurus. The popular believe is there all these things are hypocrisy. In this context, what do you like to tell to the mass and gurus?
Swamiji: To the mass I will say everything is not hypocrisy, because if everything will be hypocrisy, there shall be no creation, there shall be no rule. To make a generalization is not correct. We cannot say all the politicians are corrupt. We cannot say all the bureaucrats are corrupt, we cannot say all the people are immoral. So to say that in a general term is not correct. I will say to the mass that let your belief change but not your faith. let your faith be intact on God and goodness and if the mass will carry it, then the minority will bound to change.
So everything is not lost, but definitely something is lost. And because something is lost, those who are thinking for society, like you people, media people, saintly beings, they already have started deep thinking how to rectify it, how to correct it, and I see this as a positive sign, is a good sign. Prakriti is taking care of itself, God is taking care of his own creation. Everything will be good.
Question: Then what you would like to tell to the gurus?
Swamiji: Who am I to tell anything to the gurus? Because my definition of guru is someone who has transcended the gunas, one who is Brahman in manifest form, one who carries God in every breath, in every cell, in every thought. To such a person who am I to say anything?
Question: What do you like to tell to the people who have influenced people a little bit in spirituality?
Swamiji: I will say to the people please don't lose your common sense. Exercise your common sense, don't believe in these magics and miracles and don't support anyone if he is violating the norms of ethics and morality. Don't support any one if he proclaims himself to be God or godman.
Question: Okay, Swamiji, last one. To be very precise, how do you relate materialism and spiritualism?
Question: These things are contradictory or is there any kind of relationship?
Swamiji: These are not contradictory, these are the two side of the same coin. Matter is the manifest part, spirit unmanifest part. So matter should rest on spirit, means the manifest part of life should definitely be based on the unmanifest part of life. The unmanifest part of life is the soul or the divine attributes. The manifest part of life is the life as expressed through mind and senses and intellect. So life should be firmly on the foundation of the unmanifest attributes, then only the manifest actions will reflect the unmanifest divinity.
Interviewer: Thank you, Swamiji.